Six More Weeks of Winter for Loudoun County!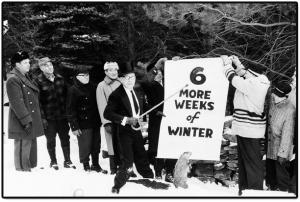 At 7:25 a.m. this morning, amidst mostly overcast skies, Groundhog Punxsutawney Phil saw his shadow … not the news we in Loudoun County wanted to hear. A mild fall season followed by snow, snow and more snow, a Polar Vortex, and continual temperature in the single digits and teens.
Loudoun County furnaces are working overtime to keep homes warm during these very cold temperatures
The forecast is calling for more snow tomorrow. This continued band of cold weather is putting a strain on your Loudoun County furnace, and if your system is not in peak condition then the likelihood of a problem occurring will greatly increase with the extra workload put upon your heating system.
If you haven't had your HVAC system checked yet, now would be a good time. Many of the HVAC repairs we have performed recently could have been avoided with proper furnace maintenance. Unfortunately many homeowners fail to have routine fall maintenance services done on their heating systems, and only find out after the furnace fails that a problem exists. If your Loudoun County furnace is more than 15 years old, you may want to consider replacing it with a newer, more efficient model.
Don't wait, with the extreme cold temperatures, a breakdown is even more likely to occur. We routinely see these occurring during late evening or very early morning hours when demand is at it's peak. Climatic Heating and Cooling offers 24-hour same day and emergency service if you find yourself without heat.