Home Heating Installation & Replacement
It may be time to replace your heating system, if any of these seem familiar …
Your gas and electric bills are going up … it's not just the economy
You feel like some rooms are too cold while others are too hot
Your furnace is making strange noises
Your furnace won't cycle on or off
Your house is dry or dusty
Your heating system is older than 16-20 years
There are many things to consider when it comes time to replace your home heating system; you want a company that you can trust. At Climatic, our goal is to provide you with the best possible recommendations and installation when it comes time to replace your heating system.
No Fine Print or Exclusions, Every Detail is Upfront and Clearly Communicated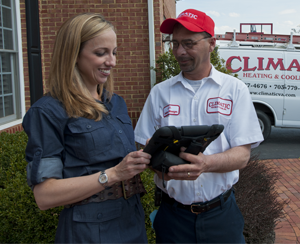 We conduct a site visit to ascertain your needs and recommend the products that will give your best possible return on investment and reliability, at a fair and competitive price. If it turns out you just need repairs, we have expert technicians at the ready to get your home back to normal.
Our technicians are the best in the business and our work is performed above industry standards. In addition to our installation standards, our employees have the utmost concern for your home and always leave it as clean or cleaner than when we found it.
All of our installations are followed by an inspection visit by one of our managers. This ensures that the installation was completed to the Climatic Standard. Follow this up with our 24-hour emergency service and you can see that Climatic Heating and Cooling is a choice you can be confident in for years to come.