Northern Virginia's Home Heating Experts
We've Been Caring for Your Comfort for More than 20 Years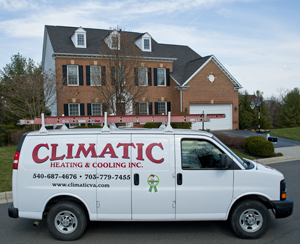 The heating system is the heart of your home. Whether your existing heating system needs repair, replacement, or routine maintenance, you can count on Climatic Heating and Cooling.
We have more than 20 years of knowledge and experience in deciding what will work best to keep your family warm throughout the winter months.
Our entire staff operates with integrity and will help you decide whether a replacement or repair is the best choice for your situation. Either way, our expert technicians will get your home back to normal.
Your gas and electric bills are going up … and it's not just the economy.
You feel like some rooms are too cold while others are too hot.
Your furnace is making strange noises.
Your furnace won't cycle on or off.
Your furnace breaks down frequently.
Your house is dry or dusty.
Your heating system is older than 16-20 years.
You will be living in your home for at least five more years.
Your furnace is less than 10-years old and in good condition.
Your furnace is still under warranty.
Your heating and cooling costs have been acceptable.
You are generally pleased with your level of comfort.
Your furnace is behaving abnormally.
Your furnace is making strange noises.
Your furnace has parts working poorly or not working at all.
You will be moving within the next five years.
We are also available to perform routine maintenance to stop a problem in its tracks before it gets worse.
There are many brands on the market for you to choose from, and we can repair, replace and service them all: Carrier, Payne, Lennox, Goodman, Trane, Bryant, Ruud, York and more. You can rest assured that we will only recommend high-efficiency heating solutions that warm your Northern Virginia home and save you money on your utility bills.