New HVAC System in Our Leesburg Home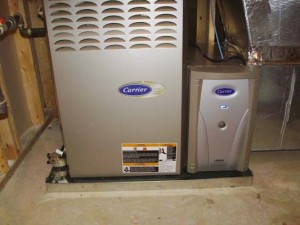 We recently moved into a new home in Leesburg, Virginia. The first thing we did was install a energy-efficient Carrier HVAC unit and air quality system.
My family owns Climatic Heating and Cooling, but this is not why a new HVAC unit was installed.
The previous home owners didn't have a annual HVAC maintenance contract, on their Leesburg home and it showed. Many homeowners overlook the importance of an HVAC service plan, thinking it is an unnecessary expense. But just like regular maintenance on your car, your home heating and cooling equipment also needs routine maintenance to perform at its best.
Benefits of an Annual Leesburg HVAC Preferred Service Agreement
When you sign up for a Climatic Preferred Service Agreement, a professional technician will pay seasonal visits to your home to tune up your furnace and air conditioner. During our Spring HVAC maintenance visit, our technicians make sure that your air conditioner is prepared for the heat and humidity of the Leesburg Virginia summers. And during our Fall HVAC maintenance visit, they will make sure your furnace is ready for the cold Leesburg, Virginia winter.
While every piece of HVAC equipment will need to replaced eventually, following a routine, comprehensive maintenance schedule will prolong your Leesburg home's HVAC system. Having to replace a 10-year old system due to poor maintenance is a costly mistake.
A routine preventative HVAC maintenance program isn't an option, it's a must. Call us today to schedule a maintenance check up … or you could be like me and be forced to completely install a new HVAC system.