Loudoun County Publications
A PLETHORA OF INFORMATION
On any given day, there are numerous things happening in and around Loudoun County.  It may be a middle school award ceremony in Middleburg or a new business in Bluemont. Thank goodness for so many local newspapers and magazines dedicated to sharing all of the great information with the public.
A GREAT LISTING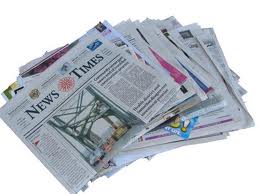 Newspapers:
Loudoun Times Mirror – Published weekly, this newspaper shares local and regional news, obituaries, sports and classifieds from around Loudoun County.
Leesburg Today and Ashburn Today – Published weekly and delivered directly to homes via the USPS, this paper offers hometown news, things to do and a full classified section. The Leesburg edition includes Lansdowne and Leesburg,  Brambleton and Broadlands are among the Ashburn neighborhoods covered by the Ashburn edition.
Purcellville Gazette – This weekly tabloid style newspaper includes a comprehensive listing of community events, letters to the editor and a slew of local business advertisements. Residents of Round Hill and Lovettsville are among those that benefit the most from the paper.
Magazines:
Loudoun Magazine – This quarterly full-color lifestyle magazine bridges a diverse and rapidly changing county with features and topics of interest on people, history, business, learning, art, sports and more.
Loudoun Woman Magazine – Available in print and digital formats, this magazine dedicated to woman and families of Loudoun County  is full of objectively written by field experts that live and work in and around Loudoun County.
READ ON!
Grab a copy of one of these publications, a glass of sweet tea and read on. You'll notice that throughout each of these publications local, family owned businesses advertise their services. We are no different. If you see one of our HVAC service ads, let us know when you schedule your next service.