Loudoun County HVAC Winterizing Tips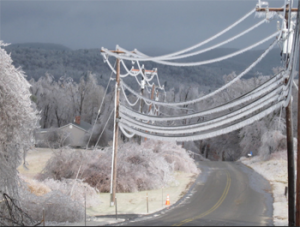 The ice storm that covered Loudoun County in a solid sheet of ice, though beautiful to look at from the warmth of our homes, reminded us that its important to consider whether in addition to winterizing our plants and covering our patio furniture, we shouldn't also think about protecting our Loudoun County HVAC units from the elements. Unfortunately, there is no clear-cut answer to this question, because there are benefits and drawbacks to each choice.
Protect Your Loudoun County HVAC System from Falling Ice and Debris
On the one hand, covering your Northern Virginia HVAC unit makes sense when falling ice and debris from the roof can damage the top portion of your unit. However, covering it in a tarp can also create warmth, and a breeding ground for rodents who will often hide in the unit to escape the cold. The damage rodents can inflict on wires and other components can be extensive and costly and unfortunately hard to detect until you need your unit to function.
A possible compromise to these options is covering the top of the unit with a piece of plywood. This would protect the top of the unit from falling ice and dangerous debris, while not providing too much shelter for mice and other creatures that would find the space under a tarp very enticing.
The decision to cover your unit or leave it exposed should be made on a case by case basis however, since the weather in our area can vary greatly from Eastern Loudoun County, such as Leesburg, Ashburn, South Riding, and Sterling to Western Loudoun County, such as Middleburg, Aldie, Purcellville, and Round Hill. And of course its important to remember to schedule your regular fall-winter HVAC maintenance with us since that will help you avoid costly surprises and will keep your Loudoun County HVAC system working at optimal levels all year.