Cherry Blossom Time
A GIFT OF FRIENDSHIP
In 1912, as a gift of friendship to the people of America, the people of Japan presented cherry blossoms. These trees now line the Tidal Basin in Washington, DC. Each year countless people from around the world descend upon our Nation's capital to see them in full bloom. This year, peak is expected around April 5 and will last about 2 weeks. It is an experience to witness the pastel pink and white blossoms for yourself.
WHAT TO DO
Beginning March 20 and running through April 12, an array of activities will occur in and around the DC area to celebrate their annual flowering. Parades, picnics, parties and more are planned. You can learn more about the festival at http://www.nationalcherryblossomfestival.org/category/events/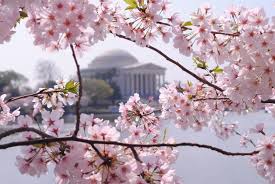 ENJOY THE TREK
For many Loudoun County residents, the trek into DC is one they take regularly while others see it as a long journey. The good news is that Ashburn will soon be home to a metro station which will make the journey a lot less cumbersome for those that live a little further west like Leesburg or Purcellville.
Enjoy the blossoms!