Back to school night, sports schedules, after-school activities and Air Filter Changes = things that should be on your calendar!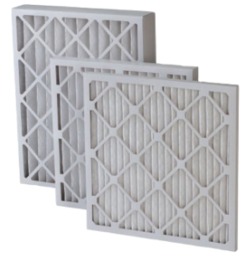 There are two important reasons to change the air filter in your furnace on a regular basis. Number one is to protect the safety of your family. Number two is to protect the investment that you made in your heating and air conditioning equipment. Air filters keep dust and dirt from building up in your HVAC system and they remove allergens from the air that your family breaths every single day.
Research shows that indoor air pollution is a major threat to our health. In addition to the dust and pollen and other allergy triggers, bacteria and viruses can become airborne in the home. A clean furnace filter will be able to capture these contaminants and protect your family.
The best air filters to use are pleated filters with a high MERV rating. The old fiberglass filter, which had been the industry standard for years, cannot capture many of the particles which can cause health problems.
The MERV rating scale for replacement air filters ranges from 1-16, with 16 being the absolute best. These filters are used in places like hospitals where sanitary conditions are an absolute must. In the typical home, a replacement filter with a MERV value of 9-12 will do a terrific job as long as you strictly follow the manufacturer's recommendation and replace the filter when scheduled.
Because the filters are so good at capturing contaminants, they can also restrict air flow to the furnace. When the filter becomes clogged with dust and dirt, the HVAC system has to work harder to pull the air through the filter. If you are not replacing the air filters on a regular basis, you could be shortening the life of your equipment and setting yourself up for a huge bill to repair or replace your furnace.
Having Climatic perform regular precision tune-ups is another excellent way to protect your system. Our skilled technicians can also advise you on the best air filters to use and how often they should be replaced.
Our goal is to help educate our customers about how HVAC can affect their energy and home comfort issues. For more information about when to change air filters and other HVAC topics give us a call!